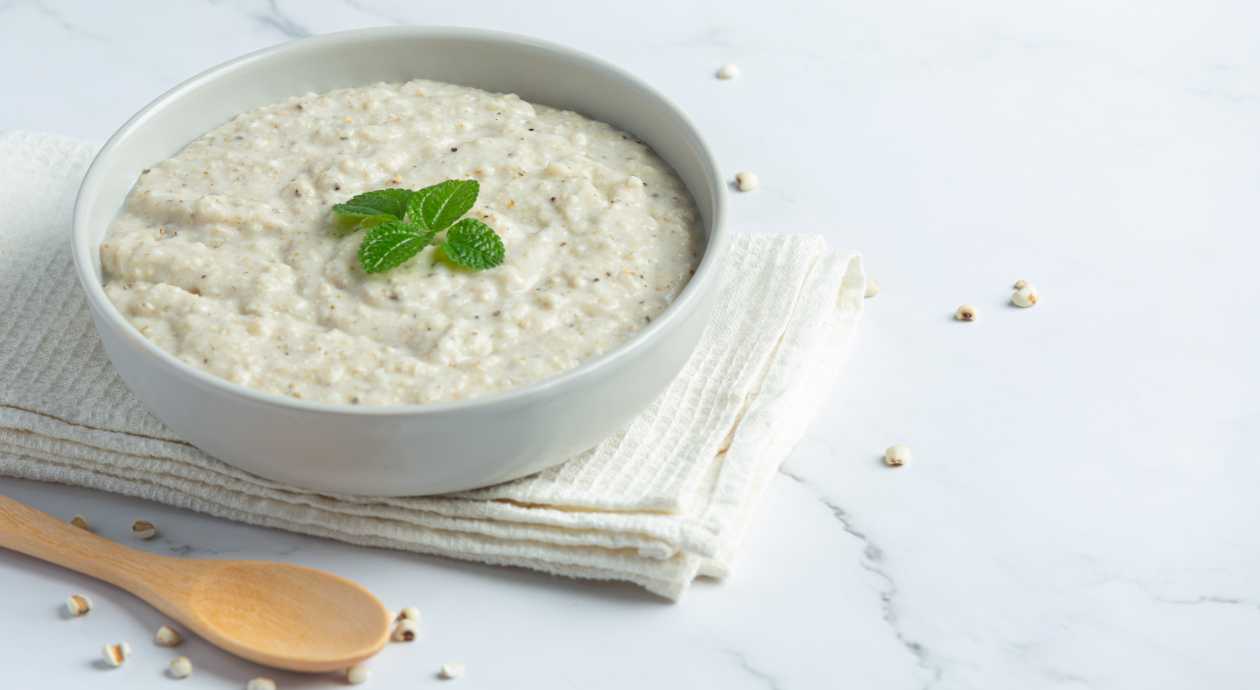 AYURVEDIC NUTRITIONAL FACTS
Vegetable dalia is a common breakfast meal in Indian houses. It is basically broken wheat and is high in iron, fiber, and protein. Due to its high nutrition value, it is suitable for everyone from kids to the elderly.
You can quickly prepare this recipe for your breakfast whenever you have a busy day ahead. Not only that, but you can also try it for your lunch or dinner when you do not feel like eating anything else.
Full Recipe in Details
Vegetable dalia (broken wheat) is a healthy breakfast option for everyone. If you do not have time to spend hours in the kitchen this can be your savior.
Cooked with the right kind of spices makes it delicious.
Suitable: It is best suitable for a Vata & Pitta body type person. 
Vipaka (post digestion effect): Sweet
1 cup dalia (broken wheat)

1 inch ginger, finely chopped

1 tablespoon ghee (homemade)

Saindhav namak (rock salt) as required
Wash dalia 2-3 times and drain the water.

Heat one tablespoon of ghee and add cumin seeds to it.  You can use any oil of your choice for preparing vegetable dalia. But, ghee brings fantastic flavor to this recipe.

Once the cumin starts spluttering add ginger, chopped beans, tomato, and peas into the pressure cooker. Sautee it for 2-3 minutes over a low flame. Keep the fire low while sauteing to prevent the burning of vegetables.

After 2-3 minutes add washed dalia and mix them. Keep mixing until they blend well together.

Add salt as per your taste and mix water to it. If you like spices, you can add coriander powder during this stage of cooking. Lastly, cover the pressure cooker with its lid.

Cook it in a medium flame for 10 whistles or until dalia is cooked well. If not cooked well, add little extra water and cook for few more whistles.

Vegetable dalia is ready to eat. Garnish with chopped coriander leaves and enjoy it.
Ayurvedic Wisdom
According to Ayurveda, each food has a specific property based on which it nourishes our body. So, it is essential to eat as per your body type. As a result, it helps to maintain health and boost our immunity.
Vegetable dalia is more suitable for Vata and Pitta body type people. It is not harmful to a Kapha person, but it is better to take it in moderation if you are a Kapha person. It is so because wheat has a heavy quality which can cause trouble for a person with Kapha dosha dominance.
Everything in moderation is healthy for everyone. It is all about maintaining balance.
To make each recipe more suitable, we can make few changes according to our body type. Here are the simple changes you can make as per your body type:
Vata person – Add more ghee to your meal.
Pitta person – No change required.
Kapha person – Use buckwheat instead of broken wheat to make this recipe.
Share this recipe