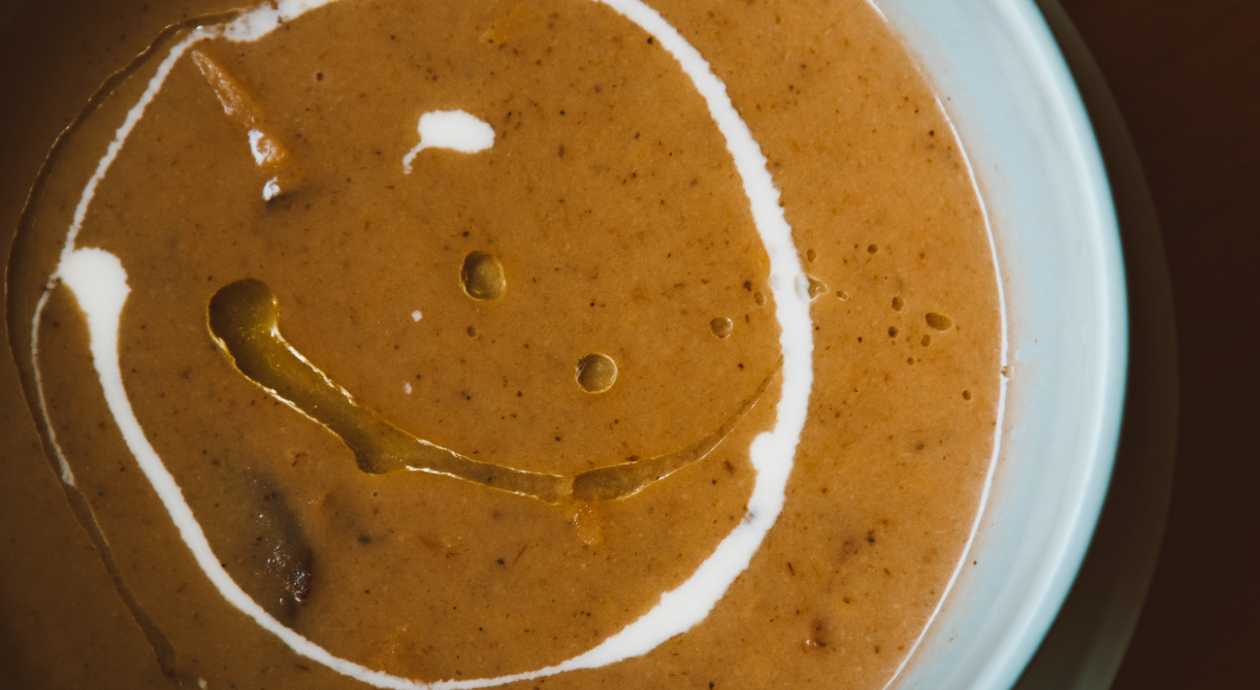 AYURVEDIC NUTRITIONAL FACTS
Black gram & bengal gram both are high in protein, vitamins, and minerals. They are also a rich source of fiber, which helps to maintain the overall gut function.
Black gram is also a good source of Vitamin B complex, iron, copper, calcium, magnesium, zinc, etc which are good for overall health. On the other hand, bengal gram is high in Vitamin C, folate, and Vitamin B6. Together, this recipe becomes a power pack of nutrients.
Suitable: It is suitable for all body types (Vata, Pitta, Kapha) if taken in moderation.
Full Recipe in Details
Black gram is more suitable for Vata person and bengal gram is more suitable for Pitta and Kapha person. But, when these two are cooked together and eaten in moderation they are suitable for all body types. You can make few variations according to your body type in this recipe which is given at the end of this recipe. 
I love this recipe with drizzled ghee since my childhood. I hope you will love it too. You can enjoy this recipe with rice for your lunch.
1/2 cup black gram, overnight soaked

1/2 cup bengal gram, overnight soaked

1 tablespoon ginger-garlic paste, fresh

2 small-size onion, blended

1 medium-size tomato, blended

1 teaspoon turmeric, organic

Saindhav namak (rock salt) as per taste

1/2 teaspoon garam masala

1 teaspoon coriander powder

1/2 tablespoon kasuri methi

2 tablespoon chopped coriander leaves, fresh
Soak black gram and bengal gram (1/2 cup each) in 5 cups of hot water in a bowl at night. Next morning, wash this mixture thoroughly and remove the water afterward.

Boil the mixture of these two lentils in five cups of water in a pot on medium flame until it gets soft and cooked properly. Add salt and turmeric to this mixture and let it boil.

On the other side, take iron or brass wok and add ghee to it. Once the ghee is warm put in cumin seeds. When they begin to splutter add finely chopped onions and sautee until they turn golden brown.

Add ginger-garlic paste to it and sautee it for around one minute over a low flame. Now add finely chopped tomatoes and saute on a medium flame. During this stage, put coriander powder and garam maasla to it. Mix them well and saute until the tomatoes get soft.

Put kasuri methi into and mix them well. Now pour the boiled black gram and bengal gram mix with its stock into the sauteed mixture.

Stir it well and if the dal looks thick, you can add about ½ cup warm water or more if required.

Stir and cook the dal for 5 more minutes over a medium flame to get medium consistency in the dal.

Lastly, add chopped coriander leaves and serve it hot.
Black gram & bengal gram mix is a fantastic recipe to try. It is a perfect lunch recipe to have with rice. 
Ayurvedic Wisdom
According to Ayurveda, each food has a specific property based on which it nourishes our body. So, it is essential to eat as per your body type. As a result, it helps to maintain health and boosts our immunity.
As explained earlier, a black gram is more suitable for a Vata person. But it does not mean it is harmful to a Pitta or Kapha person. If they eat it in moderation, it helps to nourish them as well. 
 On the other hand, bengal gram suits Pitta & Kapha people more. It is so because bengal gram is dry and light in quality which may cause trouble for a person with Vata dosha dominance. Again, it does not mean that it is harmful to a Vata person, but it is better to take it in moderation if you are a Vata person. 
Everything in moderation is healthy for everyone. It is all about maintaining balance.
To make each recipe more suitable, we can make few changes according to our body type. Here are the simple changes you can make as per your body type.
Change the ratio of black gram bengal gram of this recipe according to your body type:
Here it is 1/2 cup black gram & 1/2 cup bengal gram
For a Vata person: 1/4 cup bengal gram + 3/4 cup black gram
For a Pitta person – 1/4 cup black gram + 3/4 cup bengal gram; add less ginger garlic paste
For a Kapha person – 1/4 cup black gram + 3/4 cup bengal gram; add a pinch of cinnamon powder to the recipe
Share this recipe