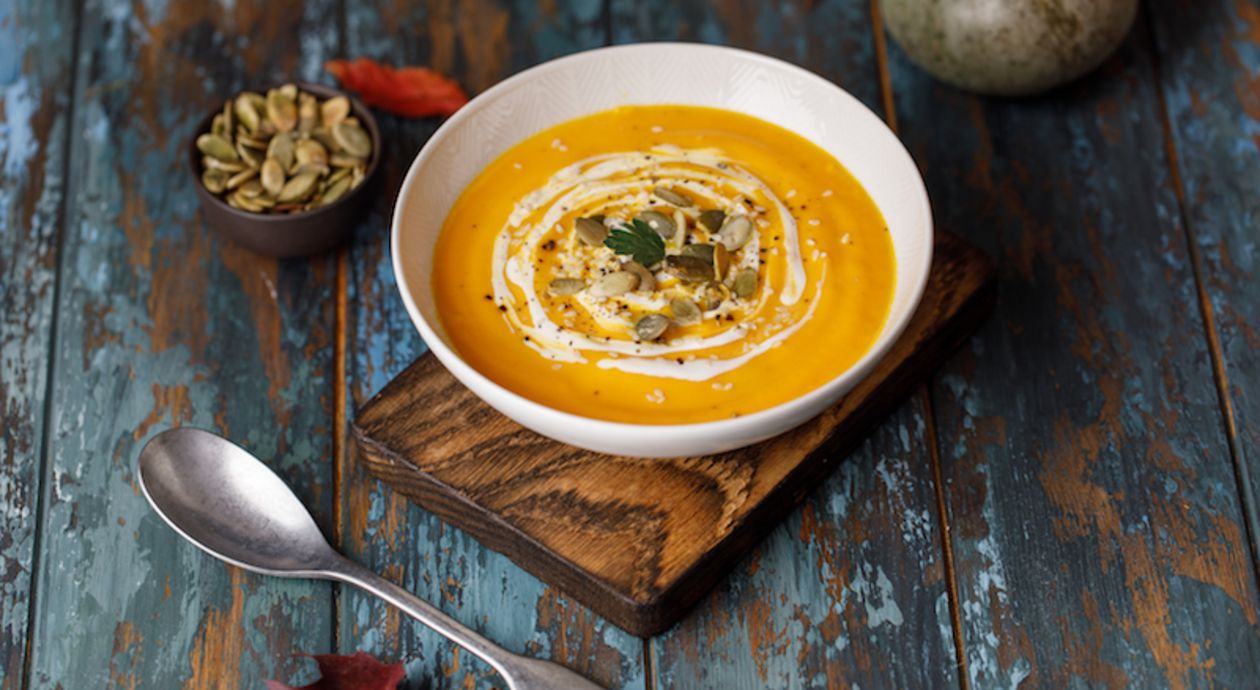 Ayurvedic nutritional facts of pumpkin
Pumpkin, also known as Kaddu in Hindi, is an extremely healthy vegetable that balances the Tridoshas (Vata, Pitta, Kapha). It is a good source of potassium, magnesium, manganese, zinc, Vitamin A and C. It is also high in alpha-carotene and beta-carotene (antioxidants).
Research says that the extract of its seeds has an antidepressant activity, which helps to fight depression. The high amount of zinc in pumpkin is beneficial to improve memory.
Full Recipe in Details
Pumpkin soup is a comforting meal, especially during winters. It is a delicious warming meal that you can consume for your lunch or dinner.
Vipaka (post digestion effect): Sweet
2 Tablespoons of Mustard Oil

Himalayan Pink Salt (as per taste)
Select a ripe pumpkin for this recipe. Wash, peel, and remove seeds from the pumpkin. Chop it into medium size pieces. Pumpkin seeds are wholesome and full of nutritional value. Do not throw them away. Instead, sun dry them and consume as a healthy snack.

Take a wide iron wok to cook pumpkin. Heat two tablespoons of mustard oil until it starts smoking. You can use any other oil of your choice. But, traditionally, mustard oil is used for this recipe. It brings fantastic flavor to this recipe.

Once the oil starts smoking and its pungent smell goes off, put cumin and turmeric. Sautee it for 15 seconds in a low flame. Keep the fire low while sauteing to prevent the burning of spices.

Put chopped pumpkin and mix them. Keep mixing the vegetable until the sauteed spices blend well.

Add salt as per your taste and mix it well. Cover the wok with a lid.

Stir it once or twice in between so that it does not get stick to the wok. Cook it in a medium flame until it gets mushy.

Once it gets soft, smash it nicely with a masher. It is the perfect timing to mash the cooked pumpkin. If you do not want to make a paste of it, you can skip this step.

Pumpkin soup is ready! Garnish with chopped coriander leaves and enjoy it.
According to research, consuming 40 gm of pumpkin seed every day for a month helps to enhance the functions of the brain.
Pumpkin is beneficial in the following conditions:
Heart health
Boosts immunity
Weight loss
Ayurvedic Tip:
As per Ayurveda, pumpkin helps to improve memory. It also works as an anthelmintic, which means it kills intestinal worms. Not only that, but it also provides strength, so it is beneficial in weak and thin people.
Variations in the recipe according to your body type:
Vata person: Add more ghee in the recipe.
Pitta person: Avoid cooking it in mustard oil. Instead, you can use ghee. Also, add little extra chopped coriander for garnishing. Consume it occasionally.
Kapha person: Add fenugreek seeds along with cumin and turmeric. Garnish it with black pepper.
Share this recipe