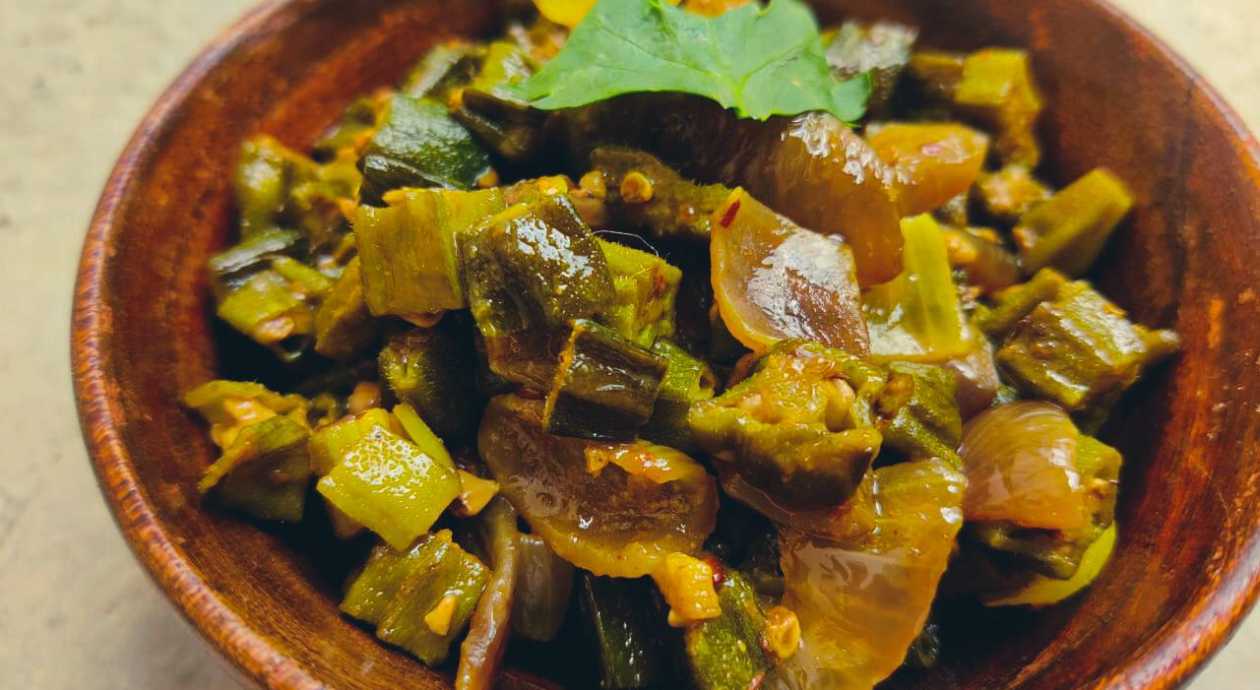 AYURVEDIC NUTRITIONAL FACTS
Guna
Raw okra – Heavy
Cooked Okra – Not very heavy
Okra is a good source of Vitamin B6, Vitamin C, antioxidants, calcium, and folic acid. It helps to control blood sugar levels, strengthen bones, improve digestion, and support heart health. Also, being a good source of folic acid, it is beneficial to consume during pregnancy. So, eating bhindi sabzi can help you maintain your health and prevent various ailments.
Full Recipe in Details
Indian masala bhindi sabzi is a tasty recipe to try. I love to enjoy it with whole wheat chapati with the combination of homemade curd for my lunch. Adding some herbs and spices makes it perfect and delicious. You can also enjoy it with yellow moong dal on the side and chapati.
Vipaka (post digestion effect): Sweet
1 large cup okra, chopped

3 tablespoons mustard oil

1/2 teaspoon turmeric powder, organic

Saindhav namak (rock salt) as per taste

1 teaspoon coriander powder

2 pinches of garam masala
Firstly, select smooth, blemish-free, bright green pods of okra. Then wash and clean it thoroughly. Now chop them into pieces.

Take a wide iron wok to cook bhindi sabzi. Heat three tablespoons of mustard oil until it starts smoking. You can use ghee or any other oil of your choice for cooking. But, cooking in mustard oil gives it an amazing flavor.

Once the oil starts smoking and its pungent smell goes off, put cumin and turmeric. Sautee it for 15 seconds in a low flame. Keep the fire low while sauteing to prevent the burning of spices.

Once the oil starts smoking and its pungent smell goes off, put cumin seeds and turmeric. Sautee it for few seconds in a low flame. Keep the fire low while sauteing to prevent the burning of spices.

Add chopped onions into it and sautee on medium flame until it turns light brown. Then put okra into the wok and mix them well. Keep mixing the vegetable until the onion mixture blends well. Cook it over medium flame for 10-15 minutes. Stir well in between, making sure it gets cooked well from all the sides.

Add salt as per your taste and mix it well. Keep sauteeing and then add coriander powder, chat masala, and garam masala to it.

Once it starts getting light brown, switch off the flame and serve it hot with the chapati.
In Ayurveda, bhindi (okra) comes under the category of cooling and moistening food. Here cooling does not relate to the physical temperature of the food; instead, it is related to the inherent properties of okra. Due to this, it is beneficial to eat during summers, especially for people dealing with issues like burning sensation or hyperacidity, observed mainly by Pitta people. On the other hand, it is also helpful to balance dryness, often seen in Vata people. Thus it is more beneficial for a Vata & Pitta person.
Each food has its specific property depending upon which it acts on our bodies differently. So, be wise with your food and always choose to eat what suits you better.
Everything in moderation is healthy for everyone. It is all about maintaining balance.
To make each recipe more suitable, we can make few changes according to our body type. Here are the simple changes you can make as per your body type:
Vata person – Add more ghee to your meal.
Pitta person – Avoid adding garam masala.
Kapha person – Consume in moderation.
Caution: If you do not belong to India and are not habitual to Indian recipes, do not add a lot of spices & avoid using mustard oil to your recipe. Sometimes, consuming many spices and mustard oil can cause digestive issues in people who are not habitual to these items. There is no harm in trying the Indian recipes for anyone who belongs to other countries, but it is always better for you to add fewer spices and oil if you are not accustomed to them. 
Always prefer to eat your regional and seasonal food items and enjoy other region's food items which you have never tried before in moderation only. 
Share this recipe