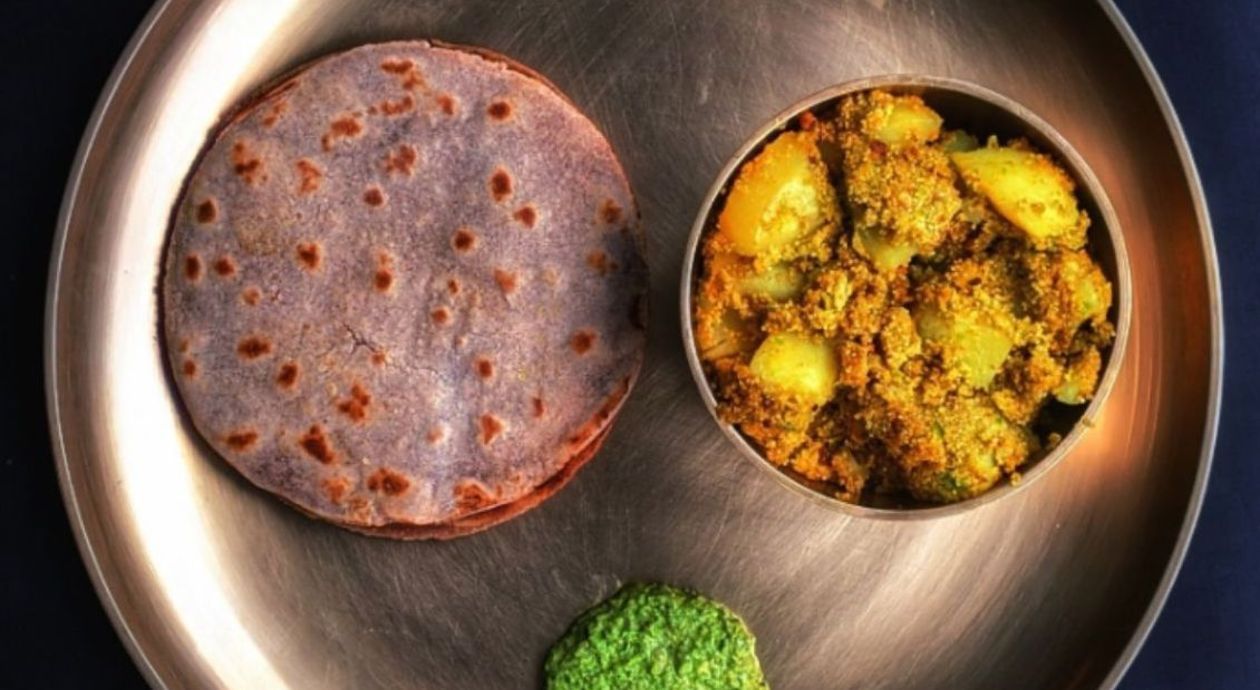 AYURVEDIC NUTRITIONAL FACTS
Have you ever tried Aloo Posto? If yes, then what do you like to eat with it? I love the taste of this wonderful Bengali recipe – Aloo Posto with the singhara roti and chutney.
Here is my version of a fantastic "Aloo Posto" thali that is high in excellent nutrients!
This delicious thali has a flavor from Bengal (India) that will make your mouth drool in no time! A nutty flavor of poppy seeds and the intense aroma of singhara roti make this thali more desirable.
Full Recipe in Details
Posto is a Bengali name for Poppy seeds. As per Ayurveda, poppy seeds are aphrodisiac, improves strength, and useful in diarrhea, anxiety, depression, and muscle pain. It is also high in manganese and other micronutrients, making it a natural supplement.
Cooking it with potatoes makes it a perfect blend of vitamins, minerals, and antioxidants. This recipe reduces the risk of heart disease, relieves weakness, and increases strength and immunity. All in all, it is a fulfilling gluten-free recipe that everyone can enjoy in moderation.
On the other hand, singhara (water chestnut) is a powerhouse of nutrition with more potassium, manganese, Vitamin B6, and copper. According to Ayurveda, it is aphrodisiac and improves sperm count and quality. It is also beneficial in diarrhea, heavy periods, burning sensation, gastritis, and relieves weakness.
It is better to purchase water chestnut flout from your local grocery store.
Lastly, refreshing coriander chutney completes this thali by enhancing the taste with its delicious flavor.
Rasa (taste): Sweet, Astringent

Vipaka (post digestion effect): Sweet
4 medium-size potatoes, peeled & cut into cubes

2 tablespoons of mustard oil

1/2 teaspoon turmeric powder

3 tablespoon white poppy seeds, soaked in 1/2 cup water
Posto (poppy seed) paste

Firstly, soak three tablespoons of poppy seeds in half a cup of water overnight. Soaking poppy seeds overnight makes it easier to make a paste out of it. Then drain water the next morning and grind it in a small jar with one tablespoon of water. I use a small spice jar of my blender. Grind it well until you get the perfect consistency of a paste. You can add more water if required.

Aloo Posto:

Once the posto paste is ready, move on to cooking aloo (potatoes). Now, wash, peel, and chop the medium size potatoes into cubes.

Take an iron wok to cook aloo posto. Heat two tablespoons of mustard oil on a medium flame until it starts smoking. You can use any other oil of your choice. But, traditionally, mustard oil is used for this recipe. It brings fantastic flavor to this recipe.

Sim down the flame and add 1/2 teaspoon of turmeric. Then add chopped potatoes and cook till they turn light brown. Keep stirring in between and mix them well.

Lastly, add the posto paste and mix it again. Now, add 1/2 cup of water to it to bring the perfect consistency. If you want more gravy in it, you can add a 2/3rd cup of water to the recipe. Mix it well.

Add a required amount of salt and cover the lid to cook for 8-10 more minutes over the low flame. Keep checking the gravy of this recipe, and potatoes are not sticking to the pan. The gravy's consistency should be thick, but you can add a little more water to it if you don't like thick gravy.

Stir it once or twice in between so that it does not get stick to the wok. Cook it in a medium flame until it gets mushy.

Garnish it with chopped coriander and serve aloo posto with singhara roti, wheat roti, puri, or rice.

Singhara Roti:

Take one cup singhara (water chestnut) atta, add a pinch of salt, and one tablespoon of ghee. Now combine a little warm water to make a firm dough. Keep it aside for 10 minutes. Split the dough into equal 4 to 6 parts. Then sprinkle the rolling board with flour and make a roll from each portion. Place it on the rolling board and make a roti.
On the other hand, heat the skillet and grease it with one teaspoon of ghee. Put the roti on it and cook one side until it turns brown. Flip it to another side and cook both sides properly.
Ayurveda suggests eating as per your body type. Each food has a specific property based on which it nourishes our body. Eating according to our body type helps to maintain health and boost our immunity.
Poppy seeds are more suitable for Vata and Pitta person. On the other hand, potatoes are better for Pitta and Kapha person. And singhara (water chestnut) is good for Pitta person. All in all, this thali is suitable for everyone if taken in moderation.
It's all about maintaining balance. Everything in moderation is healthy. But still, we can make some changes in the recipe to make it more suitable according to our body type.
Changes to make in this recipe according to your body type:
✅  Vata person – Add ghee to your meal. You can eat it with rice instead of singhara roti.
✅  Pitta person – Avoid cooking it in mustard oil. Instead, use ghee for cooking purposes.
✅  Kapha person – Add fewer poppy seeds to the recipe. You can use kuttu roti instead of singhara roti.
Share this recipe