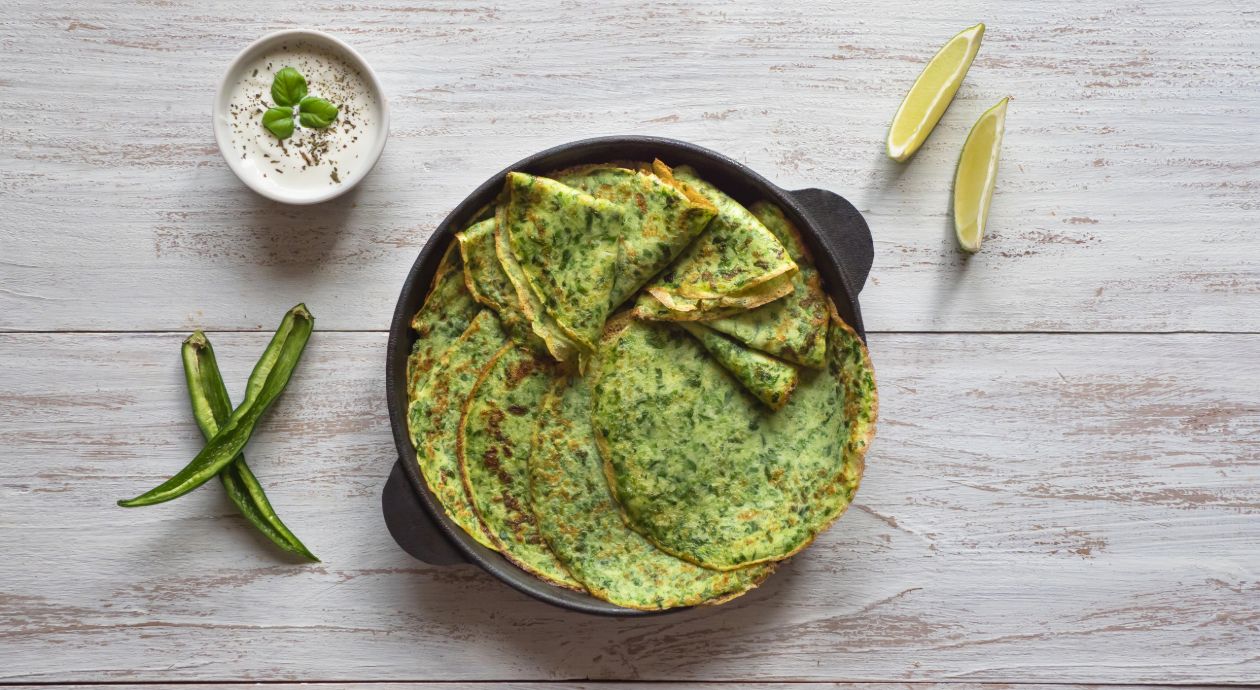 Ayurvedic nutritional facts of spinach
Spinach is a highly nutritious vegetable mostly available in winters. It is high in Vitamin A, Vitamin C, Vitamin K, iron, folic acid, and calcium. Research says that spinach is high in antioxidants, which reduces the risk of diseases like diabetes and heart disease.
Full Recipe in Details
Spinach adai is a South Indian recipe that is mostly made in some regions of Tamil Nadu. It is prepared with a blend of rice, lentils, spinach, and some spices. A hot spinach adai on a plate with homemade coconut chutney is a blessing.
Total Time: 2 hours 10 minutes
Guna (property): Dry, Heavy

Vipaka (post digestion effect): –
⅓ Cup Toor Dal (Pigeon peas)

⅓ Cup Chana Dal (Split chickpea)

1 Teaspoon Coriander Seeds
Soak toor dal, chana dal, rice in a bowl of water for a minimum of two hours. After that, remove the water from the bowl. Wash spinach thoroughly and chop it roughly.

Combine spinach, toor dal, chana dal, rice, coconut, salt, and water in a blender and blend until smooth, about 30 seconds. Add water gradually, checking upon the consistency of the batter. The batter should be fairly thin. If it is a little thick, add some water gradually until you get the required consistency of the batter. Pour the batter in a bowl and keep aside.

Heat a pan over medium flame for 30 seconds, then add ghee to the pan. Pour a ladle of spinach adai batter onto the center of the pan. Spread the batter gently with the ladle to thin the edges. Sprinkle some ghee on the edges and allow it to cook until it turns light brown. Flip it on the other side and cook for 30 seconds.

Serve it hot on a plate with fresh coconut chutney.
Spinach adai is a protein-packed breakfast that helps to build muscle mass and supports weight loss.
Spinach has the following benefits::
Prevents cancer
Improves eyesight
Regulates blood pressure
Ayurvedic Tip:
As per Ayurveda, spinach has anti-inflammatory effects, beneficial for diabetes, and supports liver health. Spinach adai is a healthy protein-packed breakfast that is suitable for everyone. For more health benefits, you may require to make a slight variation in the recipe as per your body type.
Variations in the recipe according to your body type:
Vata person: Add a little more ghee to the recipe.
Pitta person: No changes
Kapha person: Sprinkle black pepper on the spinach adai.
Share this recipe