In Ayurveda, clove (lavang) is an essential spice used for cooking and its therapeutic purposes. They are aromatic buds of flowers from the clove tree, namely – Syzygium aromaticum. You can use it in cooking, herbal teas, steam inhalation, or as a paste.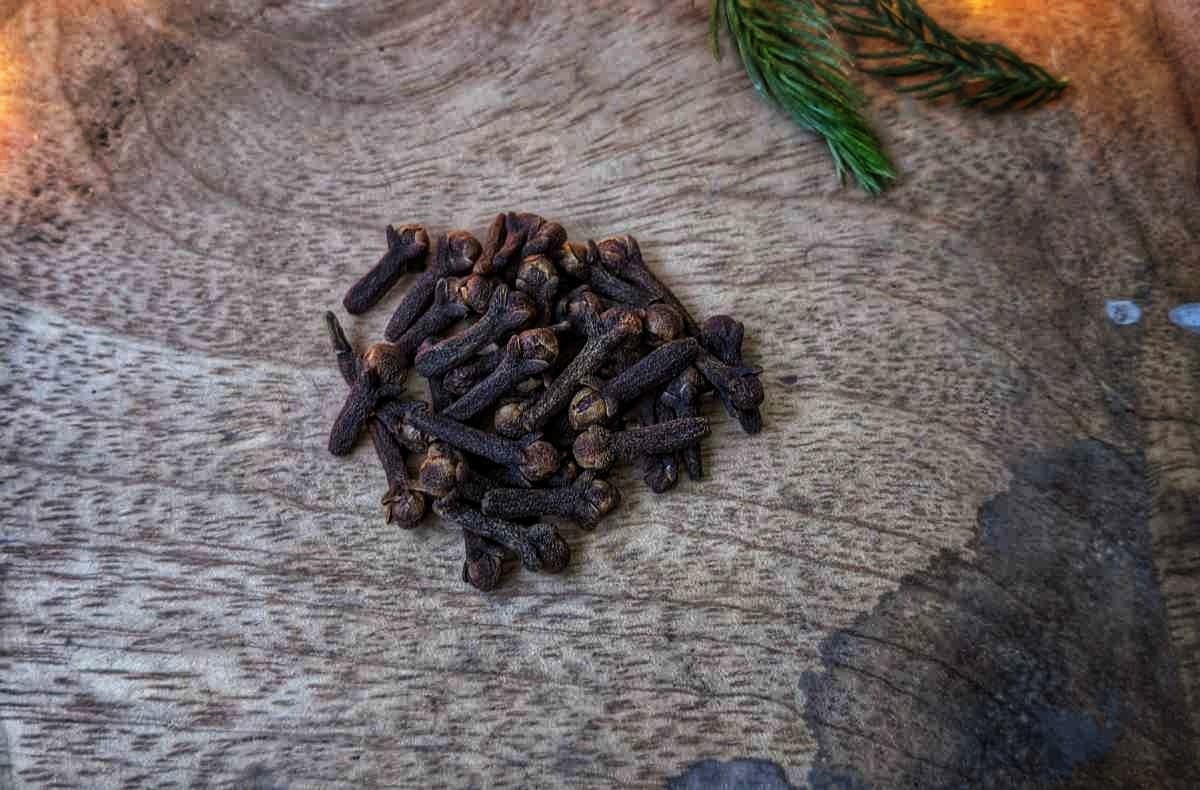 In India, we use clove as one of the ingredients in many recipes. You may have also used it in cooking like biryani, red kidney bean curry, rice, etc. It is also a part of many herbal preparations that are beneficial as home remedies. 
Clove has many health benefits like liver support, cures acne, relieves toothache, controls high blood sugar levels, improves digestion, removes bad breath, and many more. They are rich in antioxidants, vitamins, and minerals. As a result, adding clove to your meals can help you maintain your overall health. 
Note: Use it with caution if you are a "Pitta person" because it is heating in potency, and it may cause heartburn if taken in excess.
Here are the top three effective home remedies of clove:
1. Tooth pain:
Using clove oil for toothache is one of the famous Indian remedies. Clove contains eugenol, which is a natural anti-inflammatory. As a result, it cures swollen gums and reduces the pain. So, if you have mild to moderate pain in your tooth, it will give you effective results shortly. 
If you have tooth pain for many days, it is better to consult your dentist for a better diagnosis and treatment. 
How to use it?
Take a few drops of clove oil and apply to the affected teeth and gums area. You can use it 2-3 times a day for quick results.
2. Seasonal flu:
Clove helps prevent infections and keep us away from the seasonal flu. Due to this, it significantly benefits respiratory infections like flu, common cold, cough, and sneezing.
For seasonal flu symptoms, you can use it in steam inhalation and Kadha (decoction). 
If you have a nasal blockage, you can put it in one glass of water along with one teaspoon of turmeric. Boil this water, and take steam from it. This steam inhalation will help to reduce the nasal blockage and help you feel better.
On the other hand, if you have a cold, cough, sneeze, or sore throat, you can prepare a Kadha with clove, which will help you fight the infection. 
Seasonal flu Kadha recipe:
Firstly, take two glasses of water, add 3-4 cloves, one teaspoon of grated turmeric root, one teaspoon of grated ginger, 4-5 Tulsi leaves. Now, boil it until it reduces to half. Drink this Kadha twice a day for better results. 
It will give relief from seasonal flu and cure your symptoms. But do not overdo with this Kadhaespecially if you are a pita person; otherwise, it may cause you heartburn.
3. Improves digestion:
Cloves improve digestion and even cures digestive issues. It increases the secretion of digestive enzymes that helps to improve digestion. As a result, it prevents constipation and indigestion. That is why it is one of the main ingredients in some Indian recipes that are heavy to digest, like Rajma, Biryani, etc.
Clove also has a carminative effect. As a result, it is beneficial to relieve hyperacidity. You can chew 2-3 cloves to prevent or get relief from hyperacidity.
Clove has many other benefits, but these are the top three remedies that are primarily in use. Try clove remedies for yourself or share these tips with your friends and family, whoever needs them. Share your experience with us in the comment section.