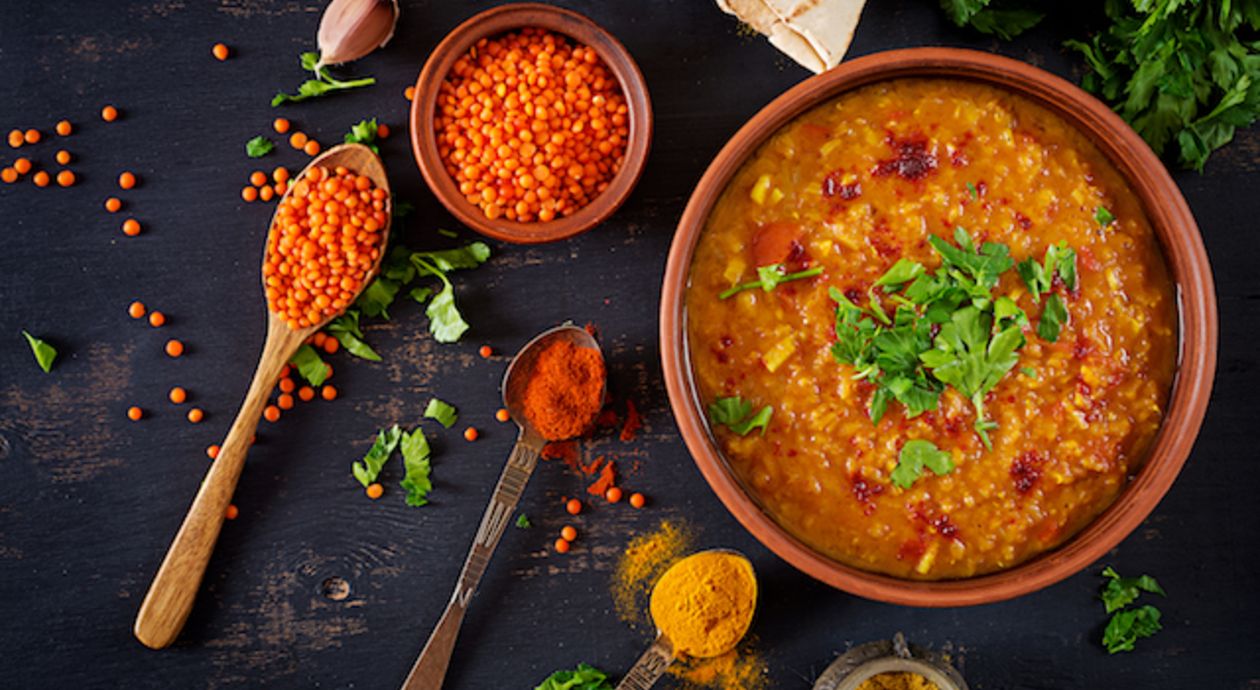 Ayurvedic nutritional facts of red lentil
Red lentil is high in protein, vitamins, and minerals. It is also a rich source of fiber, which helps to maintain the overall gut function. Red lentil does not need long hours soaking, and it is easy and quick to cook.
Red lentil is known as Lal Masoor dal in Hindi. As per Ayurveda, it balances Pitta and Kapha dosha; aggravates Vata dosha if consumed excessively.
Full Recipe in Details
You can either consume red lentil with rice or enjoy it as a soup. I love making soup when I don't have time to cook. It takes no time to prepare and tastes yum with some drizzled ghee and garnished with freshly chopped coriander.
Vipaka (post digestion effect): Sweet
1 Cup Red Lentil (Masoor dal)

1/2 Teaspoon Turmeric, Organic

Himalayan Pink Salt (as per taste)
Collect red lentil in a bowl and wash thoroughly; soak for half an hour and remove water afterward.

Warm water in a pressure cooker and add cumin, turmeric, salt, and soaked red lentil. Bring it to a boil over a medium flame for five minutes. Cook for 20 minutes over medium flame; without covering the pressure cooker, keep stirring so that it could not stick.

Heat ghee in a saucepan; add finely chopped garlic and saute until it turns brown. Add curry leaves and saute for 10 seconds. Add the sauteed mixture over the cooked lentil. Mix it well and pour it in a bowl.

Garnish with freshly chopped coriander and serve hot.
Red lentil soup is a fantastic recipe to try if you want to feel light and healthy. It is a perfect dinner recipe one can have.
Lentils have the following benefits:
Improves vision
Good for heart health
Provides glowing skin
Balances high sugar levels
Lowers the high cholesterol levels
Ayurvedic Tip:
As per Ayurveda, red lentil is more suitable for Pitta and Kapha body type people. Due to its dry quality, it may aggravate Vata dosha if consumed in excessive quantity. So, if you are a Vata person or suffering from any Vata imbalance, avoid consuming red lentil in excess.
Variations in the recipe according to your body type:
Vata person: Eat once or twice a week only. Add a little more ghee over the recipe.
Pitta person: Avoid adding garlic.
Kapha person: Add black pepper and a slice of grated ginger in the recipe while boiling it.
Share this recipe