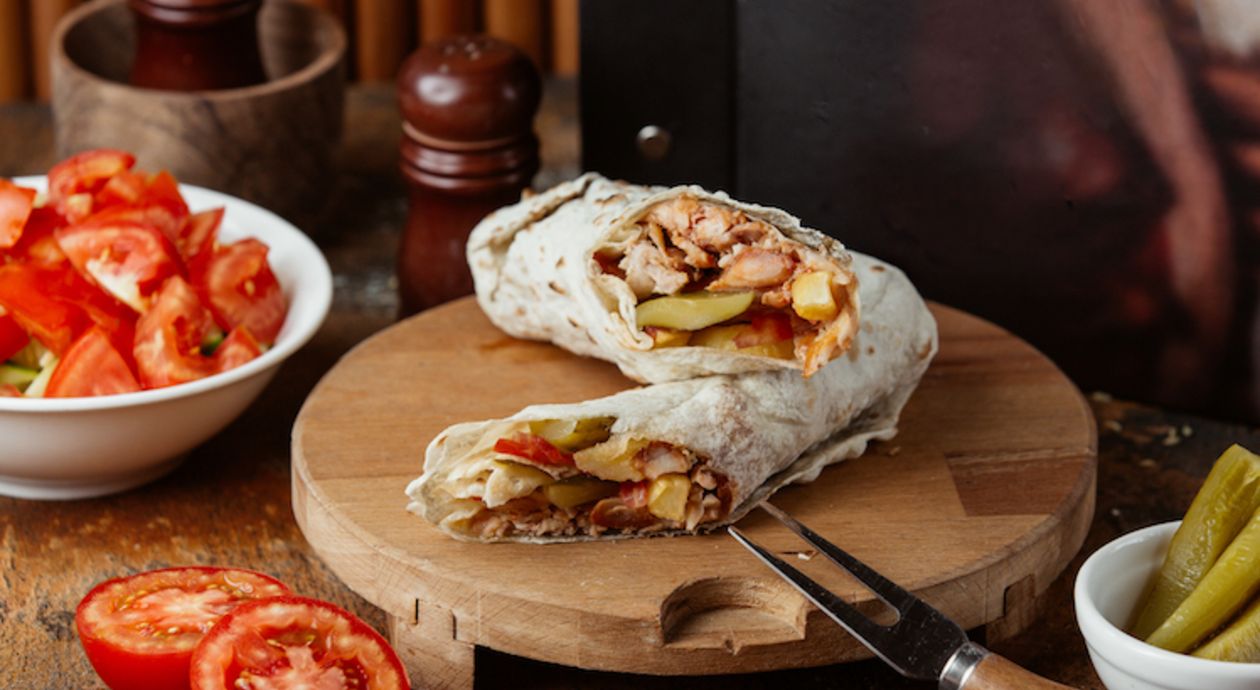 Ayurvedic nutritional facts of wheat
Sweet potato is a root vegetable rich in antioxidants, vitamins, minerals, and fiber. It is naturally sweet in taste and alkalizing in nature. As per Ayurveda, it is Tridosha hara, which means it balances all three doshas (bioenergies) inside the body.
Wheat contains gluten, which might be a problem for someone who suffers from gluten sensitivity, celiac disease, or IBS. They should make a wrap from Amaranth or sorghum flour.
Full Recipe in Details
A sweet potato wrap is made of whole wheat, which is significantly high in fiber. It is rich in selenium, copper, folate, phosphorus, and manganese. As per Ayurveda, it is highly beneficial for Vata and Pitta people.
Vipaka (post digestion effect): Sweet
Sweet potato mix ingredients:

1 Sweet Potato, Boiled

2 Tablespoon Corn, Peeled

2 Tablespoon Peas, Peeled

2 Tablespoons Capsicum, Sliced

Whole wheat wrap dough ingredients:

1 Cup Whole Wheat
Sweet potato mix recipe:

Mash the boiled sweet potato in a bowl. Add corn, peas, capsicum and mix it well. After this, add thyme, oregano, and salt to it.

Dough & wrap preparation recipe:

Mix wheat and water and dough it in a dough maker or using your hands. Make a roll and cook it on a pan. Keep it aside.

Final Steps:

Heat a toaster. Put some ghee on a wrap and add the sweet potato mixture to it. Close the lid.

Once its done, bring it out from the toaster. Put it on a plate and serve it hot with homemade coriander-mint chutney.
Whole wheat sweet potato wrap is a delicious and healthy recipe to try in winters. I use whole wheat or amaranth flour to make a wrap for this recipe. You can change the flour according to your body type (described below).
Sweet potato benefits:
It improves immunity.
It promotes gut health
It is rich in beta carotene, which makes it beneficial to prevent weak eyesight.
Whole wheat benefits:
It increases strength.
It improves skin complexion.
It is beneficial for heart health.
Sweet potato wrap is a balancing recipe for all body types. You can make it more suitable for yourself according to your body type with slight variations.
Variations to do according to your Prakriti:
Vata Person: No changes
Pitta Person: You can try making a wrap with amaranth flour.
Kapha Person: Make a wrap with buckwheat flour.
Share this recipe