Do you know banana is good for your heart? Are you aware bananas help to recover post-workout quickly? If not, here you will find five excellent health benefits of bananas, such as good digestion, healthy heart, maintain blood pressure, etc.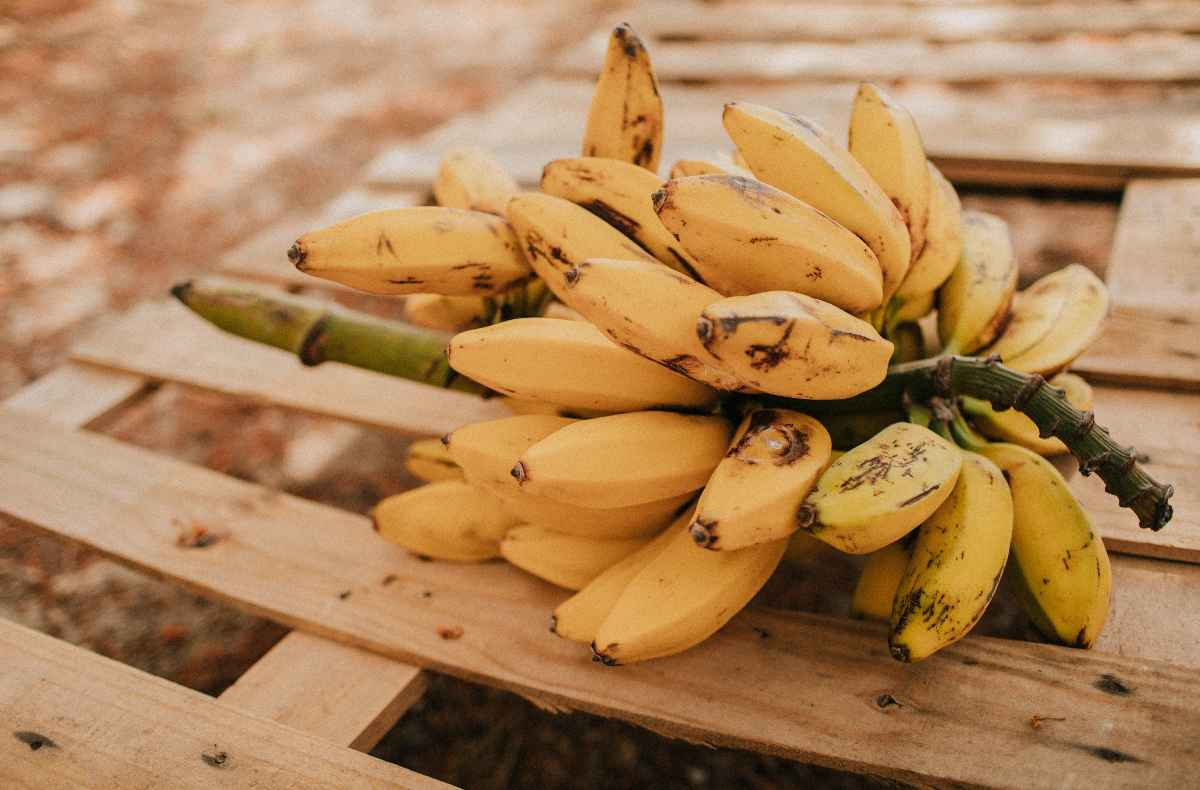 Bananas are one of the common fruit worldwide. It is a rich source of Vitamin B6, Vitamin C, folate, magnesium, potassium, and fiber. In addition, it can keep your stomach full for a long time and save you from hunger pangs.
As per Ayurveda, banana is sweet, cooling in nature, and heavy to digest. Due to these properties, it is more suitable for a Vata and Pitta body type person. On the other hand, a person with weak digestion should avoid eating a banana as it is a little heavy to digest.
Download our app " Ayurvedic lifestyle, diet, & home remedies" from the Google Play Store to know your Ayurvedic body type. The link to download is below.
Here are the top 5 health benefits of banana:
1. Good for high blood pressure:
Bananas are a rich source of potassium, which is helpful for people suffering from high blood pressure. Eating less salt (sodium) and consuming more potassium-rich food items helps to maintain blood pressure and prevent heart disease.
2. Healthy heart:
Banana is high in fiber, folate, Vitamin C, and potassium, which helps maintain a healthy heart. So, eating a banana can help you support heart health and even prevent heart disease.
3. Support digestion:
Banana is rich in fiber which promotes good digestion. It is also a savior in diarrhea and vomiting. Such ailments lead to the loss of excess water and electrolytes. Eating a banana can help to restore the electrolytes in your body.
4. Good for bones:
Banana is a good source of prebiotic (fructooligosaccharides) which help to maintain gut health. As a result, good gut health enhances the absorption of nutrients like calcium. Calcium is an essential nutrient to improve bone health and prevent ailments like osteoporosis. So, consuming bananas can be a good food choice for better absorption of nutrients from your food.
5. Post-workout snack:
Banana is high in potassium which helps muscles to recover quickly after a workout or exertion. Eating bananas as a post-workout snack can help you recover quickly and provide strong muscles.
Bananas are a good source of essential nutrients like Vitamin B6, Vitamin C, folate, magnesium, potassium, and fiber. Due to this, it supports heart health, blood pressure, good digestion, and gut health. So, consuming a banana every day can help to prevent various ailments and maintain overall health.