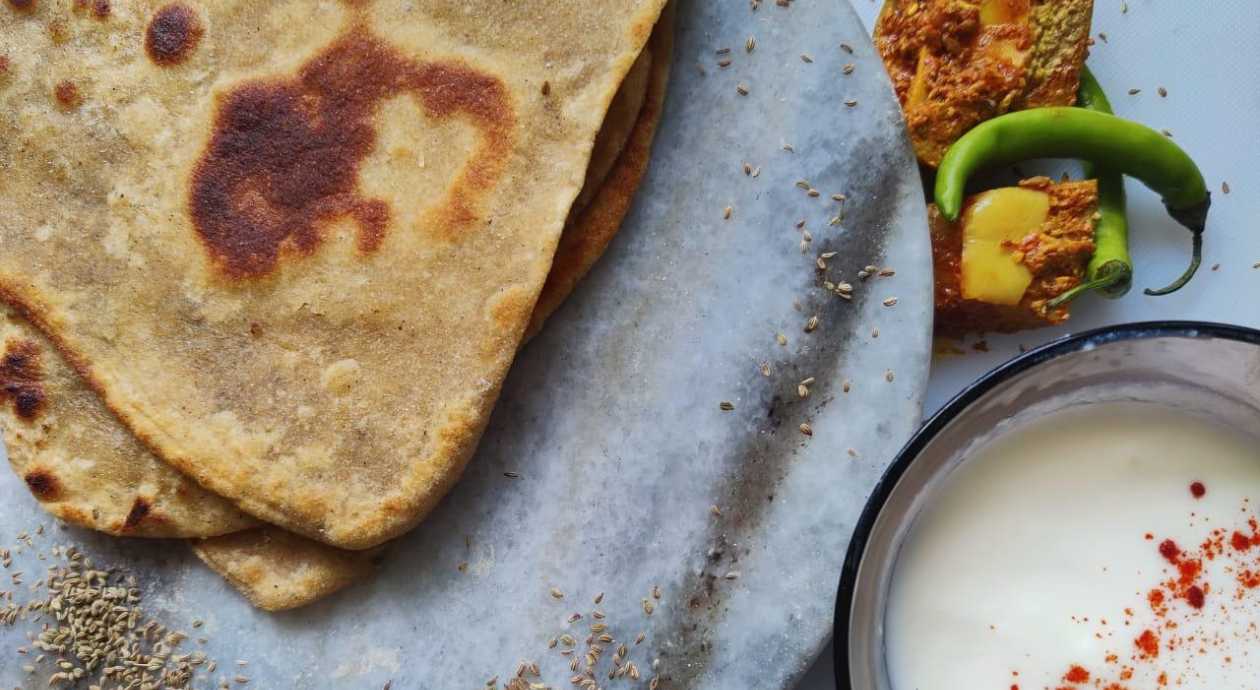 AYURVEDIC NUTRITIONAL FACTS
(Carom seeds)
Ajwain (carom seeds) is an aromatic herb that is a part of Indian cooking for ages. It looks like cumin seeds (jeera) and has a strong flavor. This herb is a pungent and bitter taste and heating property. Due to this, it is suitable for digestive issues like constipation, bloating, gas, etc.
Ajwain belongs to the Apiaceae family, and its botanical name is Trachyspermum ammi. It is an annual herb with feather-like leaves, and its seeds are brown with an oval shape. In Ayurveda, Ajwain has been used in cooking and for medicinal purposes due to its therapeutic action.
Full Recipe in Details
Here I am sharing a common Indian breakfast recipe that includes ajwain and other healthy spices. Eating ajwain paratha on a rainy morning is a perfect breakfast to enjoy. Check out its easy recipe now!
Rasa (taste): Pungent, Bitter

Guna (property): Light, Dry

Vipaka (post digestion effect): Pungent
1 tablespoon ajwain (carom seeds)

1 teaspoon coriander powder

Saindhav namak (rock salt) as per taste
Combine whole wheat flour, ajwain, coriander powder, and salt into a large mixing bowl. Add water to it gradually and knead the dough.

Knead the dough until it gets soft, and add a little extra water if required. After this, keep the dough covered with a cotton cloth aside for five minutes.

Put an iron skillet on the gas over a low flame to heat. Now, roll the medium-size ball from the dough.

Place the dough on the rolling board. Then sprinkle a little whole wheat flour over it so that it may not stick to the board. Finally, flatten it with soft hands and roll it into a round parantha with the rolling pin.

Keep the paratha on the hot skillet and cook it on a medium flame. Cook until you see brown spots. Then flip and cook the other side as well.

Griddle a tablespoon of ghee and flip to apply the ghee properly on both sides. Press the paratha with a spatula to cook it well from the edges.

Enjoy it hot with homemade pickles or chutney.
Ajwain (carom seeds) contains thymol, which helps treat digestive issues, prevent infections, clear congestion, and cure cough. So, regular use can help treat and prevent various ailments.
Ayurveda suggests eating as per your body type. Each food has a specific property based on which it nourishes our body. Eating according to our body type helps to maintain health and boost our immunity.
Ajwain paratha is more suitable for Vata & Kapha body type. But still, we can make some changes in the recipe to make it more suitable according to our body type.
Changes to make in this recipe according to your body type:
Vata – Put more ghee to your meal.
Pitta  – Add fewer carom seeds.
Kapha  – Use barley flour instead of whole wheat flour.
Share this recipe